Welcome to the World of Art and Artists in Ajijic, Mexico.
Ajijic artists have found that the mystical energy of this land has long been a source of transformation and enlightenment for humans and their artistic endeavors. Natives of the region have for millennia produced art that both honored the gods and brought blessings to life, portrayed the sometimes-harsh realities of post-Colonialism, and sought to express Mexico's cultural and existential insights. In the post-modern era, creative wanderers were inexorably drawn here by the region's constant sunlight, bird songs, soft breezes and peaceful spirit. Thus, captivated, the beauty of the area and the extant undercurrent of native artistic expression served to inspire the foreign artist in both practice and sensibility and many of today's native-born artists are graduates of art programs sponsored by the foreign community and this has created a cross-cultural harmony among Ajijic's local artists.
It can be said that an artist says things with colors and shapes that he couldn't say any other way. We invite you to take a walk through our Ajijic Art and Artist pages and immerse yourself in the veritable cacophony of sculpture, oil and acrylic painting, watercolor, textiles, jewelry, stained glass, photography and pottery. Welcome to the unique World of Art and Artists in Ajijic. Get ready to be transformed!
"Your souce for information about Ajijic Artists that live in the Lake Chapala area of Mexico ."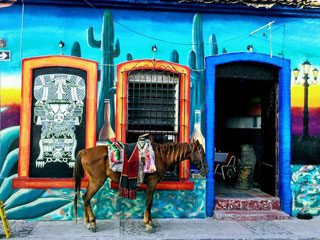 February 5th - Constitution Day
Benito Juárez Birthday - 3rd Monday in March
Labor Day - May 1
Independence Day - September 16
Mother's Day - May 10th
Day of the Dead - November 2
Revolution Day - the third Monday in
November
November 12th - Day of the Virgin of Guadalupe Christmas Day - December 25