Health Care Resources
Health care in Ajijic is getting better every year with General Practitioners and Specialists setting up office in Ajijic and the surrounding area.  A huge advantage is the short distance to Guadalajara which enables some the the most talented doctors to commute easily from there and set up satellite offices to better serve us here. Guadalajara is known for having some of the best medical facilities in Mexico with high-tech equipment and leading-edge treatments by exceptional physicians and medical staff.
In case of an emergency or a medical service is required refer to the listings below.
Ambulance
Cruz Roja: 065 or 765-2308, 765-2553
Clinics
Clinica Ajijic – (376) 766-0599 or 766-0662.   #33 Carretera – Ajijic
Clinica Maskaras – (376) 765-4805.   #79-G Hidalgo – Riberas
Cruz Roja Chapala: (376) 765-2308  Click for link to website.
Dentists
Dental offices offer excellent dental care and helpful advice on future procedures. The equipment is state of the art much like home and in some cases far superior. The cost of dental work is a fraction of what we have become used to paying in Canada or the USA.
Dr. Hector Haro
#83 San Luis,  Riberas
(376) 765-3193 or -6140.  Website.
Dental Express
#368 Carretera Ajijic. (045) 331 121-6518 or (376) 106-2080. Website
Doctora Maria Luisa Luis Villa
4A Colon, Ajijic.  (376) 766-2428. Website.
Dental Bright
16th de Septiembre 2B, Ajijic. (376) 766-5993.   Website.
BMV Dental Medical Group
Poniente 25, Ajijic.  (376) 766-1772. Website.
Dental del Lago
27a Constitucion, Ajijic.  (376) 766-4503
Chapala Dental Care
Bugambillas #39. Fracc Mirasol. (376) 765-5584.  Website.
Doctors
The private doctor's offices in Ajijic provide outstanding medical care. Most physicians are bilingual and are highly experienced in their field of specialty. Some doctors make house calls, as well as accompany you to the hospital if further investigation is required.
Dr. Gerardo Leon G.P.
#4-B Carretera – Ajijic (376) 766-5633 Cell (045) 331 410-6819
Dermika-Centro Dermatologico
A dermatology clinic with several highly qualified specialists offering Cosmetic, Surgical, Medical, Laser and Pediatric Dermatology, Clinical Nutrition and Hair Restoration.
#357-5 Carretera at Juan Alvarez, Ajijic (376) 766-2500.  Website.
Chapala Med
Plaza Interlago 132-21, Lib. A Chapala, Ajijic.  333 950-9414.  Website.
Alta Retina Clinica Oftalmologica
Bugambilias 17, Fraccionamiento Mirasol.  (376) 766-1521.
Hospitals
Hospitals much like the doctor's offices have wonderful care. They are warm and caring people by nature and this is a very welcoming trait when you are suffering an illness. The cost for a visit is minimal and any additional lab work, tests and results will be dealt with in very little wait time.
Hospital Clinica Ajijic
#33 Carretera – Ajijic (376) 766-0662 or -0500
24 Hr. Emergency services
Consults with a Doctor for services offered welcomed by appointment
Clinica Maskaras
#79-G Hidalgo – Riberas (376) 765-4805
24 Hr. Emergency services
Chapala Med
21 Plaza Interlago, Ajijic. Next to Lake Taco. (376) 766-4435
Cruz Roja
González Gallo 1, Chapala Centro, Chapala. (376)765-2308
Pharmacies
You will find the staff to be very helpful. Write down what you are looking for and they will find you the Mexican equivalent. Much to my surprise, many medications do not need a prescription and they are less expensive in Mexico.
Farmacia Maskaras
#79-C Hidalgo, Riberas (376) 765-5827
Guadalajara Farmacia
Carretera and Donato Guerra
Jessica's Farmacia
Ajijic Plaza (376) 766-1191
Farmacia Express II
Hidalgo 111C, San Antonio Tlayacapan
Farmacia Similaries
Assisted Living / Nursing Homes
As BabyBoomers approach retirement they are faced with aging parents and thoughts on how to care for them while still being able to fulfill and enjoy their own retirement years. After investigating the options, Boomers and the Aged themselves have come to find several exceptional independent or assisted living, full care and, end of life facilities offered in the Ajijic and surrounding areas.
The employees are well educated and highly trained to care for the elderly and their individual needs. Aside from the medical care they provide several activities to take part in, including outings in the village away from the facility. The genuine thoughtfulness and natural respect for the elderly make the Mexicans wonderful caregivers. The cost of assisted living or nursing homes is roughly half if not less than what you would be expected to pay in North America.
Combine all these attributes to the wonderfully pleasant weather why wouldn't someone what to spend the later years of their life here in paradise with lots of attention.
Alicia´s Convalescent Nursing Home
Offers 3 different levels of care: assisted living, middle care full care or nursing home.
• Assisted Living. For people who still can do everything by themselves but sometimes need a little bit of help.
• Middle care – For people who have a disability but mentally are ok and still can have a conversation.
• Full care or Nursing home – For residence who has Alzheimer's or Dementia. In all our houses there's 24/7 care, 3 meals a day (balanced diets and always fresh food), laundry and cleaning every day, private rooms, WiFi, local transportation, cable tv, daily exercise; the most important is that when a new residence comes to our place they became part of our family.
Phone: (376) 766-3152 or (376) 766-1194    Cell: 333 954 9534
Paseo del Lago, Fracc La Floresta, Ajijic. Website.
Shangri-La
This property is the smallest with only 4 rooms but offers 2 lush acres with swimming pool and views of the lake and mountains.  English-speaking owned and operated. Conveniently located, home-cooked meals, family-oriented, short and long-term stays.
169 Ramon Corona, San Antonio (376) 766-1359. Cell: 331. 218. 2375.
Casa Nostra Nursing Home
Established in 1990 offering general care, 24-hour nurse monitoring and, provides quality delivery of all day to day activities for its residents.
Riberas del Pilar 765-3824.  Website.
Mi Casita Nursing Home and Assisted Living
Gonzales Gallo #70, San Antonio Tlayacapan. (376) 106-2081.  Website.
Happiness Care Residence for Elderly
Santa Clara #504 Riberas del Pilar
Riberas del Pilar, Ajijic, 3331379604.  Website.
Casa Anastasia Care Home
There are 8 lower units, 3 upper units and 2 "suites" with kitchen for a couple. The facility has an elevator, a hot tub, a therapy tub, and a pool. Pets are allowed. They provide  24/7 nursing care, three levels of care: Extended Living, Minimal Nursing Care, and Full Nursing Care.
73B Hidalgo, Riberas del Pilar (next to Clinica Mascaras) 765-5680.  Cell 333 452 5864.  Website.
"come to ajijic for health care and specialty health services."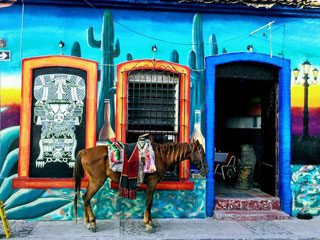 February 5th - Constitution Day
Benito Juárez Birthday - 3rd Monday in March
Labor Day - May 1
Independence Day - September 16
Mother's Day - May 10th
Day of the Dead - November 2
Revolution Day - the third Monday in
November
November 12th - Day of the Virgin of Guadalupe Christmas Day - December 25