Ajijic is a true artesans village.
 Shopping in Ajijic is an experience in itself.  You can pretty much find everything you need in Ajijic or in the surrounding area.  There are big chain stores like Walmart, Steren, Soriana, Telcel, Vinos Americas and Marti for your familiar favourite items. And smaller locally run stores that feature hardware, paint, gardening, baking, coffee, grains, liquor, jewelry, clothing, shoes, stationary, art supplies and even dollar stores.   Cash is the preferred form of payment in Ajijic but if you run out of money or find you can't live without something there are several 24 hour bank machines available.
Do not fear, if you cannot find your beloved north of the border favourite items in Ajijic there is Super Lake and Pancho's Deli that stock a plethora of goods.  If that fails Guadalajara's big box and multinational stores are only a one hour drive away. If you do not drive there are always drivers for hire and bus shopping trips organized by the Lake Chapala Society. 
"Shopping in ajijic is an adventure."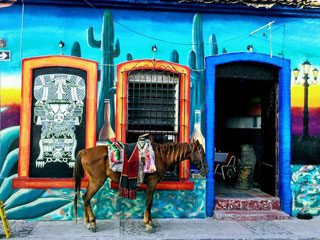 February 5th - Constitution Day
Benito Juárez Birthday - 3rd Monday in March
Labor Day - May 1
Independence Day - September 16
Mother's Day - May 10th
Day of the Dead - November 2
Revolution Day - the third Monday in
November
November 12th - Day of the Virgin of Guadalupe Christmas Day - December 25