The Ajijic attractions in the surrounding areas offer a wide variety of activities for the young, the young at heart and even the not so young. Whether you are looking for things to do or some other Ajijic attractions to participate in, want to attend an event or simply be an observer there is something for everyone. The trick is finding enough time to fit it all in.
Art and Artists
The mystical energy of Ajijic has long been a magnet for artists of all disciplines. We invite you to take a walk through our Ajijic Art and Artists pages and immerse yourself in the regions unique offerings of sculpture, textiles, jewelry, stained glass, photography, pottery, oil and acrylic painting and watercolors.
Art Shows
Feria Maestros del Arte is a non-profit organization providing a yearly venue for Mexican folk artisans to come together to sell their work.
Feria Maestros del Arte:
November 9th: 9:30 am to 5:30 pm
November 10th: 9:30 am to 5:30 pm
November 11th: 9:30 am to 4:30 pm
80 pesos admission
Club de Yates de Chapala, Paseo Ramon Corona, Chapala
Fitness
Change of Pace – 11-B Carratera at Marcos Castellanos, Ajijic
Circuit training (376) 766-5800
Golf
Chula Vista Country Club
Kilometro 53 Carretera Jocotepec Chapala, Chula Vista, Jal. (376) 766-5981
9 Holes
Country Club De Chapala
Fracc. Vista De Lago #1, San Nicholas de Ibarra (376) 763-5136
9 Holes
Hiking
The Ajijic Hiking Group meets every Tuesday and Friday mornings at 8:45 am at Dona's Donuts on the Careterra in Ajijic, across from Guadalajara Farmacia.  Consult the Ajijic Hiking Group Facebook page for details or visit the website at ajijichikinggroup.com to learn more about the group.
Horseback Riding
La Floresta – Camino Real at Paseo del Lago.  Take your pick of dozens of horses and either take an escorted ride or experienced riders may be able to ride alone.
Hacienda De Taos
True Western style horseback riding in Mexico. Enjoy the hills and Ranchlands of rural Mexico 2000′ above Lake Chapala and a beautiful one and a half hours drive from Ajijic.  Very safe and secure and suitable for riders of all ages and abilities. Cabin rentals available.
Motorcycle Tours and Rentals in Ajijic.
Tour the Sierra Madre mountains of Central Mexico with Riders of the Sierra Madre.  They offer various packages including accommodations and bike rentals.
Riders of the Sierra Madre website.   Ajijic.
Lake Chapala Society
Be sure to check out this property. You can stroll through their wonderful gardens or take a seat and enjoy a coffee, tea or snack. While you are there make sure you view the community bulletin board and calendar of events and Ajijic attractions to see everything the Lake Chapala Society has to offer.
Movies
Cinemas Del Lago (Older Complex) – #54 Carretera at Juan Alvarez, Plaza Bugambilias 2nd. floor (376) 766-3729.  Website.
Movie Space Cinemas (New Complex) – Libramiento – Centro Laguna across from WalMart (376) 766-2580 www.mscinemas.com
All movies are current. Languages offered in Spanish: which means Spanish with no English subtitles, OR with Subtitles: which means language is "English" with Spanish subtitles.
And now some outdoor Ajijic attractions!
Mexican Street Markets
Don't miss these wonderful open-air markets (tianguis).  You can purchase a large assortment of fruits and vegetables, fresh fish and seafood, nuts, yogurt, baked goods as well as household items and clothing.  Basically, you can get everything. Maybe even the kitchen sink if you look hard enough.
Ajijic – Wednesday – Calle Revolution
Chapala – Monday – Calle Obregon or Emillano Zapata?
Jocotepec – Thursday – Miguel Arana at Hidalgo – At the plaza
San Antonio – Sunday – Ramon Corona at Independencia – At the plaza.
Sundays in the plaza and on the Malecon.
On Sundays you will find Mexicans hanging out with friends and family in the square and strolling on the Malecon. Children playing, adults enjoying conversation, music playing, horses tied up, something to eat, sometimes an art or jewelry show and, the Oaxacan Traditional Pole Dance.
Take a boat ride around Lake Chapala or to Scorpion Island.
Spas
Total Body Care – #33 Ocampo Ajijic (376) 766-3379
Monte Coxala – Raquet Club in San Juan Cosala #300 Rafael Osuna (387) 761-0111
El Chante Spa – El Chante.  Calle Ribera del Lago 170-1.  Jocotepec.    (387) 763-2608
Thermal Pools
Monte Coxala – Raquet Club in San Juan Cosalá #300 Rafael Osuna (387) 761-0111
Balneario San Juan Cosala– Carretera Chapala – Jocotepec Km. 13.  San Juan Cosalá.  (387) 761-0302
Shopping
There are numerous shops in Ajijic where you can find everything from artisan pieces to chocolate delights.
"Explore the variety of things to do and Ajijic attractions."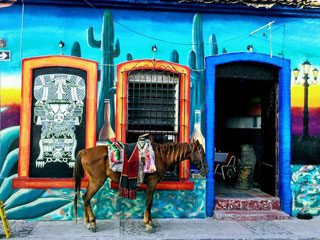 February 5th - Constitution Day
Benito Juárez Birthday - 3rd Monday in March
Labor Day - May 1
Independence Day - September 16
Mother's Day - May 10th
Day of the Dead - November 2
Revolution Day - the third Monday in
November
November 12th - Day of the Virgin of Guadalupe Christmas Day - December 25