Operation Feed is a community based charity, taking no money from the Mexico government – federal, state, or local.
​All donations go directly to the people of San Juan Cosala through it's initiatives.
Who is Operation Feed?
Operation Feed is a group of people dedicated to providing food and improving the lives of the very poor and marginalized people of the village of San Juan Cosala, less than a 10 minute drive from Ajijic.  They provide weekly food despensas for those who would go hungry without the aid.  Many of the recipients are elderly, disabled, and children who are hungry. Operation Feed also supports new program initiatives to involve the people in developing additional income sources and skills (such as English), thereby offering them a "hand up" and not just a "hand out". Operation Feed's goal is to help these people live productive lives, free from hunger.  Finally, although Operation Feed doesn't provide monetary support, they do participation in other initiatives in San Juan Cosala, such as the Token Store and the music program to help increase the dreams of the people of San Juan Cosala.
Feeding the Hungry
Every week volunteers donate their time to purchase, prepare, and distribute food packages to 90 families, approximately 720 people. The food package – or despensa – consists of a container of cooking oil, 3 small packages of pasta, a bag of rice, a bag of rolled oats and a bag of beans. As funds permit, the families also receive eggs, fresh vegetables, fruit and chorizo. Families with infants receive a container of powdered milk every month. All of these products are bought in bulk at the Abastos Market in Guadalajara to get the lowest cost possible. There are no paid staff involved with Operation Feed.
Although it is not Operation Feed's intention to meet all of the food needs of the families, but only to help, many of them would literally starve without the food given to them. Also, many of the families had to choose between buying food or sending their kids to school. With the help given to them, many more are able to send their kids to school than before. However, there are at least 20 more families that desperately need this assistance to help feed themselves and their children. It takes an average of about $300 pesos a month to feed a family. It takes an average of about $300 pesos a month for their despensa..  We are funded totally by private donations. No donation is too small. ​
Augustin Vazquez a Local Angel
The owner of Viva Mexico Restaurant in San Juan Cosala is Augustin and he has contributed an enormous amount of time and energy into this feeding program. With his restaurant contacts, Agustin is able to buy the beans, rice and oats at a reduced price at the Guadalajara market. Because of Agustin's familiarity with people from this village he is able to select the families using the following criteria:
Elderly people, who cannot work, have no means of income and no family to support them.
Disabled people who cannot work and whose families are unable to help them.
Single parents who struggle to keep a family together.
Children who would suffer without the assistance given to their families (eg: children of alcoholics).
Unemployed or underemployed people who, through no fault of their own, cannot earn enough to keep themselves and their families.
People temporarily or permanently unable to work because of an injury or serious illness.
There are always people from the village asking to be provided with food assistance. The circumstances of people receiving a despensa often change. Some people manage to find work; children grow up and go to work and are able to help their families.  History has shown that people who receive assistance are very respectful and often voluntarily ask to be taken off the list when their situation improves, so others can be put on the list.  Because there are so many people in genuine need, it is sometimes necessary to drop some names from the list in order to add others whose needs are greater.  Augustin is instrumental and very vigilant in maintaining the eligibility list.  Families that receive a weekly despensa get an identification card that they must show when the receive the food.
Yarida is an Operation Feed recipient. She also does many extra jobs to earn money, such as selling juice throughout the village. To help her family, Operation Feed weekly provides:
a kilo of rice
a kilo of beans
a kilo of oats or soy
a bottle of vegetable oil
3 packages of pasta
tuna or fresh vegetables
powdered milk
a dozen eggs
Operation Feed volunteers and our recipients are grateful to Lara and Mauricio who came from Mexico City to learn about Agustin's contributions to San Juan Cosalá. They are the TV crew from CGTV, an international cable channel. They were here to produce a news short for Game Changer … which highlights a person who makes a difference.
From left to right: Lara, Augustin and Mauricio.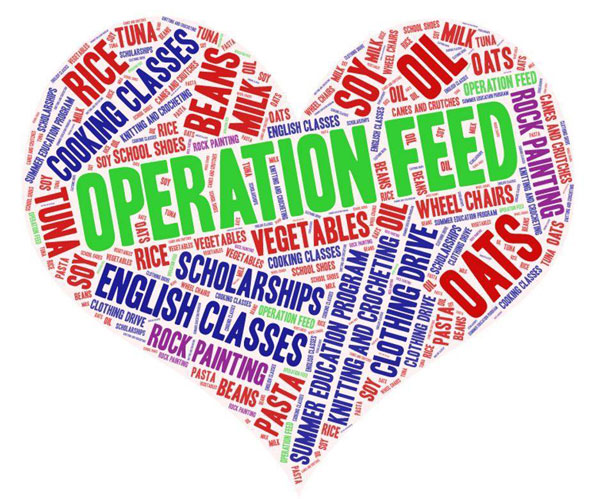 Operation Feed not only feeds families in need in San Juan Cosala but they also help to cloth them, provide English lessons, offer mentoring to young adults, cultivate moringa for sale, provide toys and gifts at Christmas time, and ensures it's members have blankets and towels.  Operation Feed also helps in the education of young people by  providing shoes and school uniforms to hundreds of children.
For those who wish to participate, Operation Feed offers small business opportunities, such as the crocheting group.
To further assist the people of San Juan Cosala, Operation feed provides readers, prescription glasses, canes, walkers and even wheelchairs.
Most recently a new grant from vegan organization, The Pollination Project has enabled cooking classes to take place and local woman have been learning how to cook for their families with specail dietary needs.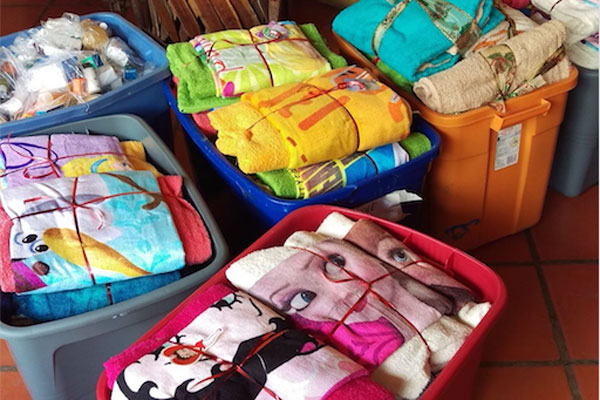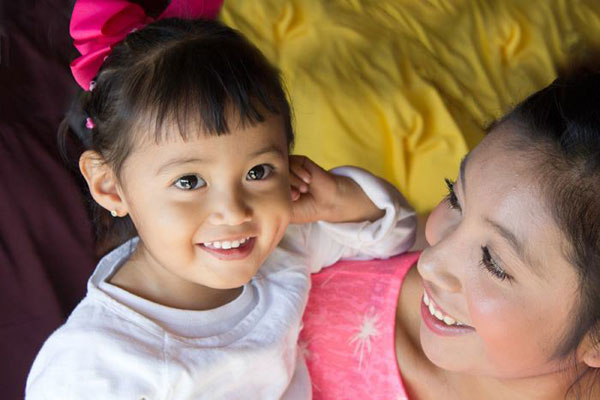 We are funded totally by private donations. If you are interested in helping support Operation Feed with a donation of your dollars (or pesos), please contact any of the following volunteers:
Weezie Burgess:
Phone: 376-766-2830
Jon Seaborg:
Phone: 376-765-3306
Contact Operation Feed
Email: operationfeedsjc@gmail.com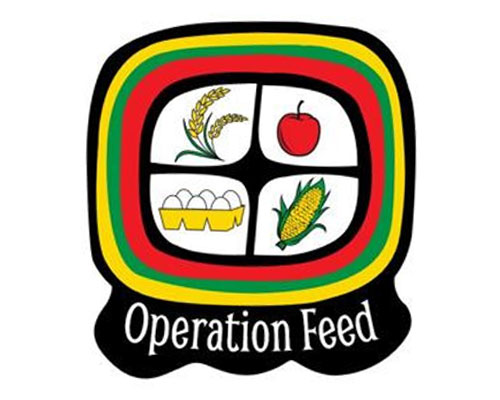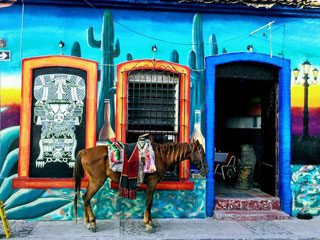 February 5th - Constitution Day
Benito Juárez Birthday - 3rd Monday in March
Labor Day - May 1
Independence Day - September 16
Mother's Day - May 10th
Day of the Dead - November 2
Revolution Day - the third Monday in
November
November 12th - Day of the Virgin of Guadalupe Christmas Day - December 25