Bed and Breakfast (B & B's) in Ajijic.
  Ajijic is home to a wide variety of Bed and Breakfast, from World Class resort villas to basic rooms that are perfect if you are just passing through the Lake Chapala area.
Many people use B&B's as a base while looking for a longer term Rental Property. Some choose to stay a few days before their rental is available due to flight dates that may be more convenient for them. Some use their time to look at the Real Estate market with the intention of buying property and making Ajijic their permanent home. Most are there just to enjoy their short-term getaway.
Whether it's the convenience of having breakfast prepared for you, enjoying some relaxing time surrounded by beautifully manicured gardens, lounging around the pool, or being right in the heart of the village, there is a B&B to suite everyone.
Many visitors to the area return to the same bed and breakfast every year so that says something about the quality of Inns available.
There are many great restaurants in Ajijic and the surrounding villages that are within walking distance of most of the bed and breakfast listed below, so enjoy your time here.
The B & B's listed below are not in any particular order and the contact information provided is only a service to our viewers.
"Stay in a charming Bed and Breakfast while visiting Ajijic."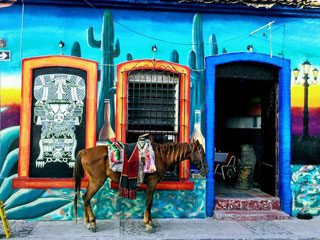 February 5th - Constitution Day
Benito Juárez Birthday - 3rd Monday in March
Labor Day - May 1
Independence Day - September 16
Mother's Day - May 10th
Day of the Dead - November 2
Revolution Day - the third Monday in
November
November 12th - Day of the Virgin of Guadalupe Christmas Day - December 25