Sculptor
Artist Estela Hidalgo loves nature and it speaks clearly through her art. In Ajijic, her work is most evident in the central plaza and along the malecon.  Estela is the sculptor of two unforgettable pieces made from residual tree trunks. On the southwest corner sits "The Essence of Ajijic," a complex, mixed-media piece featuring fish, native plants and animals; on the western end of the malecon sits "Lagrimas del Bosque," (Tears of the Forest), a piece that shares her concerns about our disrespect for nature by cutting down forests.
Born in Mexico City, artist Estela Hidalgo moved to Ajijic in 1985 and studied art at the Instituto Cultural Cabanas in Guadalajara. She has painted and sculpted since she was a child and carved her first piece – a horse – at age six from a piece of chalk. Since then, she has become an expert in all forms of sculpture using basalt, alabaster and woods, working with mallet, chisel, acetylene torch and fused glass.
Estela is now an internationally recognized artist, with sculptural shows throughout Mexico, the US and Canada. She was the only woman asked to exhibit her works at an exhibition of nineteen of Jalisco's most recognized sculptors, and exhibited in a special show during the 2011 Pan American games. In addition to her passion for imaginative and powerful large sculpture pieces, Estela has created numerous table-top pieces for private homes and businesses, and creates original jewelry pieces."
Contact Information for Artist Estela Hidalgo:
Phone: (Mexico) 376-766-1125
Email: estela@hidalgo55sculptor.com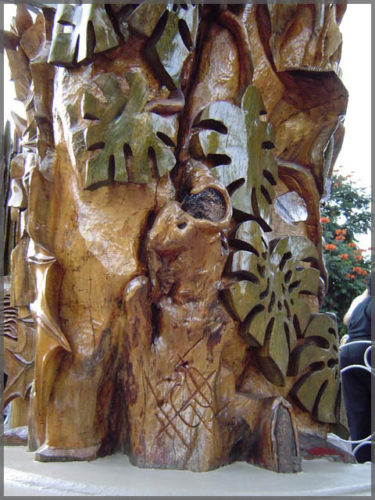 ""Essences of Ajijic"
Mixed Media: Indian laurel wood, copper and glass. 10′ x 8.5′ x 5′
Commissioned by the City of Chapala/Ajijic.
Installed in the Ajijic Plaza.
"Mountain Dreams"
Mixed media: volcanic stone, alabaster, bronze, wood and flowing water.
90″ x 27″ x 27″
Private Collection
"Kosmos Harmonios""
Mixed Media: alabaster, bronze, silver, black coral and wood. 9″ x 18″ x 18″
Private Collection Mexico
"Moon Flower" "
Mixed Media: alabaster, bronze, wood, leather and Queen palm seeds 12″ x 15″ x 14″
Private Collection Mexico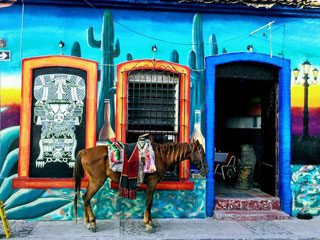 February 5th - Constitution Day
Benito Juárez Birthday - 3rd Monday in March
Labor Day - May 1
Independence Day - September 16
Mother's Day - May 10th
Day of the Dead - November 2
Revolution Day - the third Monday in
November
November 12th - Day of the Virgin of Guadalupe Christmas Day - December 25