Painter
Artist Chelo Gonzalez first became interested in painting and art when he was seven years old while his brother was taking private art lessons.  Chelo began to sketch and do some painting when he was a young teen but became frustrated when he couldn't achieve the results he desired.
Chelo's went on to build a family and became a drummer where he performed all over Guadalajara and Mexico.  Chelo explored photography for several years but his interest in painting once again came in his late forties from local artist Javier Ramos who was teaching a friend of Chelo's.  On his own, Chelo took paint and brush to canvas and the rest is history.
Today Chelo's Gorda's are sought after by Mexican Nationals and people from the United States and Canada.  Chelo has shown his works at shows and galleries in Guadalajara and Ajijic and is often commissioned to create personal portraits that depict his clients' personality and hobbies.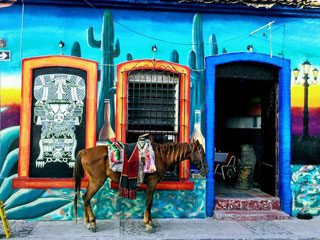 February 5th - Constitution Day
Benito Juárez Birthday - 3rd Monday in March
Labor Day - May 1
Independence Day - September 16
Mother's Day - May 10th
Day of the Dead - November 2
Revolution Day - the third Monday in
November
November 12th - Day of the Virgin of Guadalupe Christmas Day - December 25