Painter
Artist Cathy Chalvignac always felt attracted to the fullness of the indigenous peoples around the world. From their shapes and colors, to their way of living and feeling.  Everything belonging to cultures centuries old, fascinates Cathy, guiding her hand in the elaboration of her beautiful paintings and art.
Although Cathy Chalvignac was born in Paris in 1954, her family moved to Montreal when she was still a young child. Her father is a sculptor who works in stone and wood, and her mother was a fashion designer. In 1973, after high school, she moved back to Paris to attend art school, which she hated, finding it to be too rigid and restrictive. After this experience, she gave up on art with the exception of photography, and did not return to painting until her arrival in Mexico in 1986.
Cathy expresses through her work a respectful devotion to ways of life that have been preserved over the centuries. Patterns, figures, and colors fill her canvas giving life to her subject, creating images with an impressive photo-realistic quality.
In addition to her own studio/gallery in Ajijic, Cathy is represented by the Sheehan Corona Gallery in Guadalajara, Mexico and Dallas, Texas.
Contact Information:
Phone: (Mexico) 376-766-1153
Email: cathy_chalvignac@hotmail.com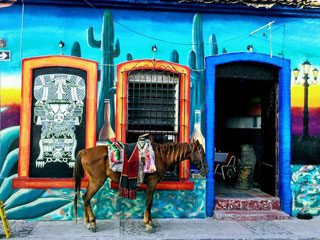 February 5th - Constitution Day
Benito Juárez Birthday - 3rd Monday in March
Labor Day - May 1
Independence Day - September 16
Mother's Day - May 10th
Day of the Dead - November 2
Revolution Day - the third Monday in
November
November 12th - Day of the Virgin of Guadalupe Christmas Day - December 25